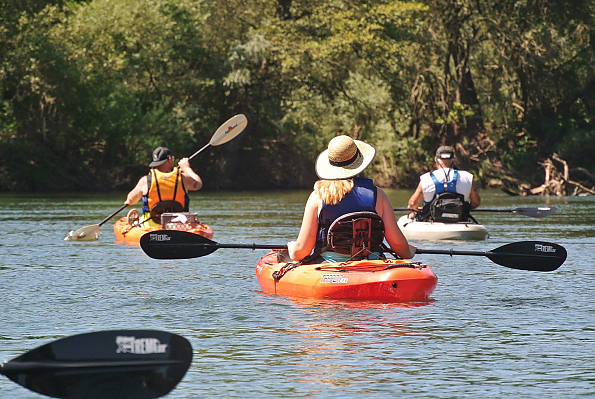 When it comes to plastic kayaks, Wilderness Systems is renowned for its exceptional craftsmanship. The Tarpon 100, 120, 140, and 160 models offer a remarkably comfortable SOT seat and a dry ride that many enthusiasts appreciate. Moreover, these kayaks come equipped with a range of notable features. However, there are a few aspects of the Tarpon 100 that might give potential buyers pause for thought.
A Unique Take on Hatches
Let's start with the hatches. The Orbix hatches used on these boats have been a subject of controversy due to their tendency to leak. While some consider this a significant issue, others argue that kayaking is inherently a water sport, and getting a little wet is part of the experience. Furthermore, it's relatively easy to keep your belongings dry by using a dry bag. However, it's worth noting that the previous-generation tupperware-style hatch covers, which are still used on numerous kayaks today, were completely watertight.
Stability vs. Tracking
The Tarpon 100 is undeniably stable, thanks to its short and wide design. However, its performance in terms of tracking leaves something to be desired. In moving water, you may find yourself constantly working to maintain your intended course. On the bright side, it's incredibly easy to maneuver and turn. Interestingly, unlike other models in the line, Wilderness Systems decided not to make the Tarpon 100 rudder ready or even rudder capable, which is surprising considering that it's the only model that truly necessitates one.
A Paddling Experience Worth Considering
Paddling the Tarpon 100 over long distances can be quite challenging, mainly due to its short and wide dimensions. Additionally, its weight relative to its size further compounds the difficulty. It's often likened to paddling a stout log. While it may not be the most ideal choice for extended trips, the Tarpon 100 does offer limited storage options. With a small round hatch in the bow and a modest rear tank well, overnight trips are possible with minimal gear. The kayak also boasts ample storage compartments on the sides and center, perfectly within reach for essentials like snacks, phones, and water bottles.
Adaptable to Your Needs
One of the Tarpon 100's biggest strengths is its versatility. The hull features five pre-molded mounts for rod holders, cameras, fish finders, and more. Additionally, the Slide Trax mounting system, included with the kayak, provides nearly limitless options for attaching accessories without the need for drilling or cutting into the hull. Whether you want to go fishing, capture stunning footage, or engage in any other activity, this kayak can easily be customized to suit your needs.
Dry, Comfortable, and Targeted
Now let's talk about the seat. The Tarpon 100 offers an adjustable seat that provides a dry and comfortable experience on the water. Wilderness Systems proudly claims it has the most comfortable SOT seat available. With ample padding, support, and ventilation, most paddlers indeed find the seat highly comfortable.
But who exactly is this kayak targeting? Wilderness Systems markets it as a versatile SOT that excels in various water conditions, including surf play, ponds, lakes, and bays. While the Tarpon 100 does possess versatility, its performance can be considered lackluster at best. It's important to note that achieving "stunning performance" with the kayak's dimensions would be a tall order. However, if you're a novice seeking stability and an easier learning experience, the Tarpon 120 might be a better option. Its improved tracking makes handling it in moving water more manageable for beginners.
Consider Your Needs and Budget
Lastly, if you're in the market for a lighter and more affordable kayak primarily for casual paddling, exploring local lakes, or simply enjoying the beach, checking out options at your local box store might be advantageous. You'll find cheaper and lighter alternatives with similar dimensions, albeit with less durability and fewer features. Nonetheless, with proper care, these budget-friendly kayaks can still provide years of enjoyment.
Conclusion
In summary, the Tarpon 100 kayak presents a unique proposition. While it may not satisfy every paddler's needs, it offers a balance of comfort, adaptability, and stability. Novices should consider their aspirations and the potential to outgrow the Tarpon 100 quickly. The Tarpon 120, with its enhanced performance and increased storage capacity, provides a superior option for camping adventures. On the other hand, those seeking a lightweight, economical vessel for recreational purposes might find suitable alternatives at local retailers. Ultimately, the choice depends on individual preferences and requirements.
---
This article was written by an experienced kayaker and kayak enthusiast. To explore further kayaking options and access premium equipment, visit UpStreamPaddle.