Have you ever dreamed of harnessing the power of the wind and gliding through the water in your trusty canoe? Well, now you can! Introducing innovative sailing rigs from SailboatsToGo that will transform your canoe into a thrilling sailboat in just minutes. Get ready to experience the excitement and freedom of canoe sailing like never before!
Unleash the Power of Canoe Sailing Rigs
With SailboatsToGo's exceptional sailing rigs, you can add a whole new dimension to your canoeing adventures. These rigs offer a range of options and accessories that are exclusively available from SailboatsToGo. Imagine the possibilities!
The Perfect Combination of Fun and Practicality
Canoe sailing has a rich history and is a popular sport enjoyed by many. SailboatsToGo's modern rig makes it incredibly easy and hassle-free to transform your canoe into a sailboat. The best part? The rig is fast, portable, and comfortable, allowing you to sail with ease and confidence.
Sail Anywhere, Anytime
Whether you're sailing crosswind, downwind, or tacking into the wind, these rigs are designed to handle it all. They provide excellent stability and maneuverability, ensuring a smooth and enjoyable sailing experience. Worried about storage? Don't be! The rig conveniently folds into a compact package, taking up minimal space when not in use.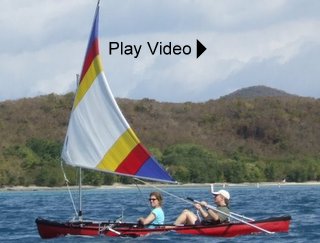 Canoes: The Ultimate Sailboats
Canoes are the perfect vessels for sailing adventures. Their sleek design and versatility make them ideal for harnessing the power of the wind. SailboatsToGo offers a wide range of sail sizes, patterns, and colors to choose from, allowing you to customize your sailing experience. Plus, they have exclusive options, upgrades, and accessories that you won't find anywhere else!
Take Your Canoe Sailing to the Next Level
SailboatsToGo offers an extensive selection of canoe sail kits, including the Super Deluxe, Deluxe, and Standard kits. These kits are designed to fit any canoe, and you can even provide your canoe's make and model during ordering to ensure a perfect fit. They also offer kits specifically designed for select Mad River canoes, ensuring compatibility and optimal performance.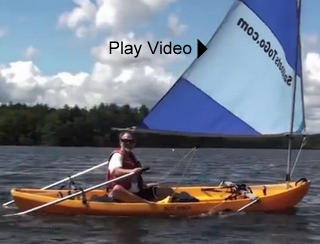 If you're looking for a packable canoe, SailboatsToGo has you covered too! Their Pakboat sail kits enable you to enjoy the convenience of a packable canoe while still experiencing the thrill of sailing. Choose from the Pakboat 165 or 160 models, both available with Deluxe or Standard sail kits.
Discover the NuCanoe Difference
For those who prefer a sit-on-top canoe, SailboatsToGo offers NuCanoe sail kits that are specially designed to enhance your sailing experience. These kits come with a choice of hydrodynamic stabilizers or inflatable stabilizers, providing the stability you need without compromising on performance. Sail with confidence in your NuCanoe!
Stay Stable with Outriggers
If stability is your primary concern, SailboatsToGo offers stabilizers (outriggers) that can be used with their sail kits, rowing accessories, or on their own. These stabilizers help prevent tipping, giving you peace of mind while you sail or row.
Explore Endless Possibilities
Sailing canoes provide a unique and tranquil experience that motorized boats simply can't match. Feel the power of the wind as it propels you forward, and relish in the serenity of a motorless boat. Immerse yourself in nature as you glide through the water, feeling a sense of harmony and freedom that only sailing can provide.
Co-owners Jim Luckett and Rob Michael are passionate about portable sailing and are dedicated to providing exceptional customer service. If you need assistance with your purchase or have any questions, feel free to reach out to them. They are always ready to help you embark on your next canoe sailing adventure!
Dive into the World of Canoe Sailing
Explore SailboatsToGo's website to discover a treasure trove of photos, videos, and information about canoe sailing. From sailing tips and safety guidelines to a comprehensive product catalog, there's something for everyone. So, what are you waiting for? Start your journey today and experience the exhilaration of sailing a canoe like never before!
To learn more about SailboatsToGo and their incredible canoe sailing rigs, visit UpStreamPaddle.
---
Contact Us:
General Ordering Information and Return Policy
Sailing Safety Tips