Imagine yourself gliding through the tranquil waters of Chesapeake Bay, a fly rod in hand, surrounded by picturesque scenery. Kayak fly fishing offers a unique opportunity to experience the thrill of angling while being sheltered from strong winds and disruptive boat wakes. From the vibrant tidal shoreline of Anne Arundel County to the Eastern Shore of DelMarVa and Tidewater Virginia, there are countless places to launch your kayak and embark on an unforgettable fishing expedition.
Exploring the Untouched Creeks
Once you've set sail on the vast waterways, a world of hidden treasures awaits you in the many creeks that flow into them. Here, you can hone your skills and try your luck at catching a variety of species, such as white perch, stripers, and pickerel, using the art of fly fishing. And if you're in the mood for a change of scenery, a short trip to freshwater areas will reveal the promise of crappie, bass, and more feisty pickerel eagerly waiting to seize your poppers and streamers.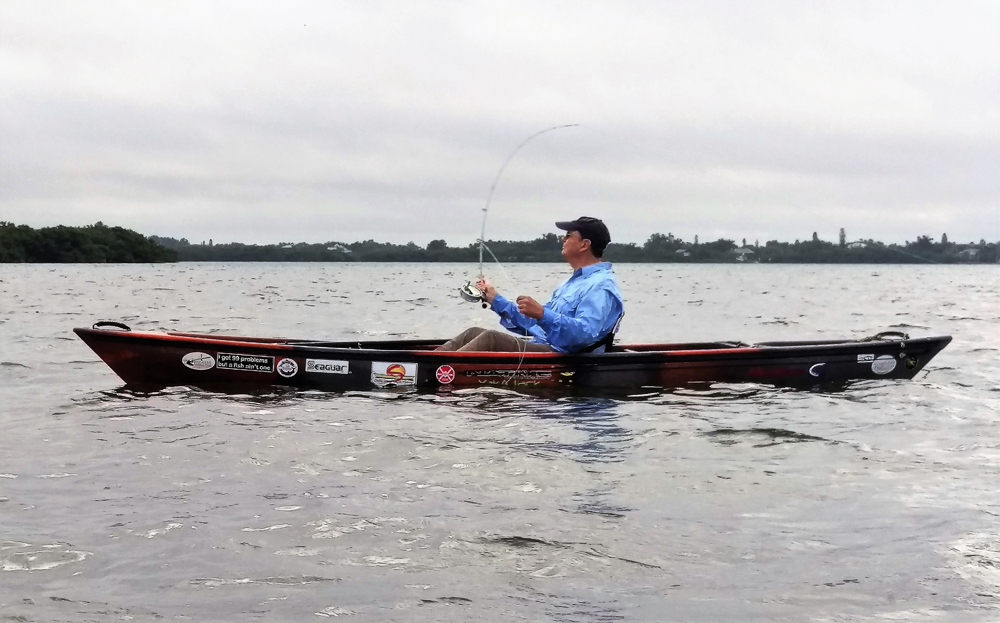 Cast your fly from the comfort of your kayak
The Allure of Simplicity
In recent years, kayak fishing has experienced a surge in popularity, resulting in a flood of specialized gear and equipment. However, what sets kayak fly fishing apart is its inherent simplicity. With just a single fly rod or perhaps two, and a modest selection of flies, you can revel in hours of enjoyment on our local small waters. Unlike other aspects of kayak fishing, there is no need to seek the "best" kayak for fly fishing. Almost any kayak will do. However, a few important considerations include comfort, transportability, and trackability.
Finding the Perfect Fit
For those who plan to spend three or four hours on the water, a comfortable kayak is essential. A supportive seat becomes paramount to ensure your fishing sessions remain enjoyable. Transportability is another key factor to consider, especially for those who cartop their kayak. Lifting and moving the kayak from the vehicle to the water requires ease and convenience. Finally, trackability determines how well your kayak maneuvers on the water. Look for a kayak that glides effortlessly and allows for easy paddling. While longer kayaks generally offer enhanced paddling and tracking capabilities, they can be quite cumbersome. As a compromise, a 12-foot kayak, such as the 49-pound Native Ultimate 12, strikes a harmonious balance.
Dispelling the Myth
Many people assume that standing is a prerequisite for fly casting. However, that is far from the truth when it comes to kayak fly fishing. This close-contact sport predominantly consists of short casts. With the added advantage of the kayak's stealthy approach, rarely will you need to cast beyond 40 to 50 feet. Thus, there is no need to stand, even in a stable kayak.
Achieving Balance
To execute successful seated casts, a well-balanced fly outfit is crucial. For most kayak fly fishing adventures, a six-weight, nine-foot rod paired with floating weight-forward line proves to be an excellent choice. In some scenarios, such as during the fall when stripers are abundant in tidal creeks, an eight-weight rod with intermediate line might be worth considering. Leaders and tippets need not be overly complicated, as most species encountered during kayak fly fishing are not leader shy. A regular tapered bass leader with a 10-pound tippet will serve you well, while a simple straight piece of 10- or 12-pound mono can be a suitable substitute in a pinch. Opt for eight to nine-foot leaders, particularly when fishing streamers as they will ensure your flies sink adequately.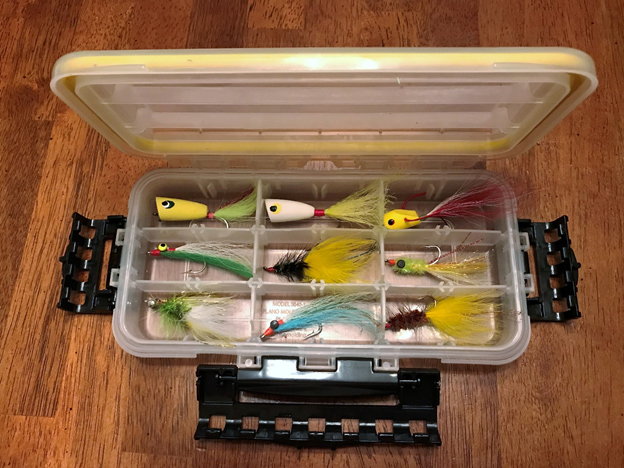 A selection of poppers and streamers for your kayak fly fishing adventure
Conquering Line Control
Line control represents a unique challenge for kayak fly anglers. If you are using floating line, simply drop the stripped line overboard with your left hand. It will float alongside your kayak, mimicking its behavior when wade-fishing. Alternatively, if space permits, you can lower the line to the floor of your kayak, making sure there are no entanglements. Remember, kayaks have a knack for snagging anything within reach. To mitigate this risk, keep the left gunnel of your kayak free from any obstructions. Position all attachments, such as the paddle holder, on the right side of the boat, as it aligns with the direction of your casts.
Unlocking New Possibilities
While I occasionally indulge in conventional tackle during my kayak fishing escapades, it is the moments when I meander along shorelines in tidal creeks and freshwater ponds with a fly rod that truly captivate me. The experience mirrors the tranquil tranquility of wading in a serene trout stream, offering unrivaled serenity, relaxation, and rewarding catches. Once you try the perfect union of kayaking and angling, you'll be as hooked as the remarkable fish you'll encounter along the way.
For more information about kayak fishing and the Free State Fly Fishers (FSFF) community, visit their website or check out their Facebook page.