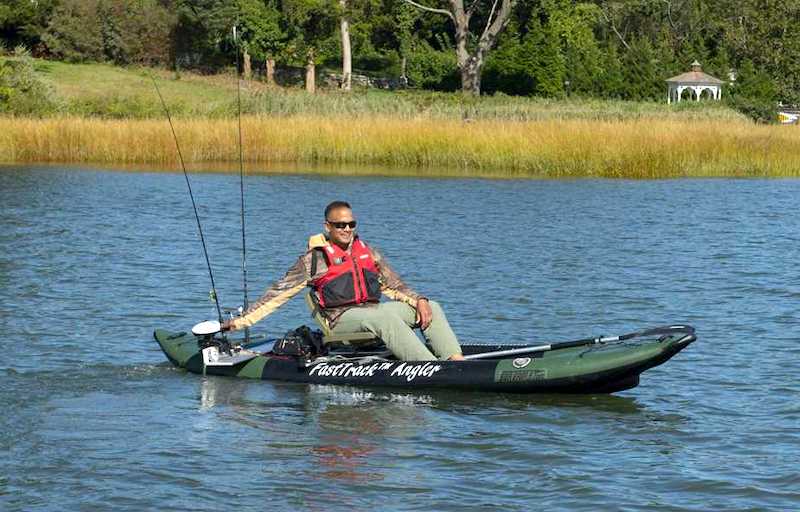 Kayaking is an exhilarating water sport that allows you to immerse yourself in the beauty of nature at your own pace. While traditional kayaking involves self-propulsion, there are incredible advantages to owning an inflatable kayak with a motor. Not only does it provide a faster and easier way to reach remote destinations, but it also caters to anglers in search of the perfect fishing spot. Plus, it offers a convenient solution for kayakers who may tire easily or need to take a break while still keeping their journey in motion. Additionally, an inflatable kayak with a motor can serve as a quick means to transport both gear and people from a larger boat to the shore. It even proves to be a valuable asset during emergencies, allowing for a speedy return to safety.
Inflatable kayaks with motors are highly favored by fishing enthusiasts. They offer a unique combination of mobility and stability, making them perfect for various fishing settings. One noteworthy brand that offers exceptional inflatable kayaks capable of attaching motors is UpStreamPaddle. Let's take a closer look at their impressive range of products.
Introducing UpStreamPaddle's FastTrack Kayaks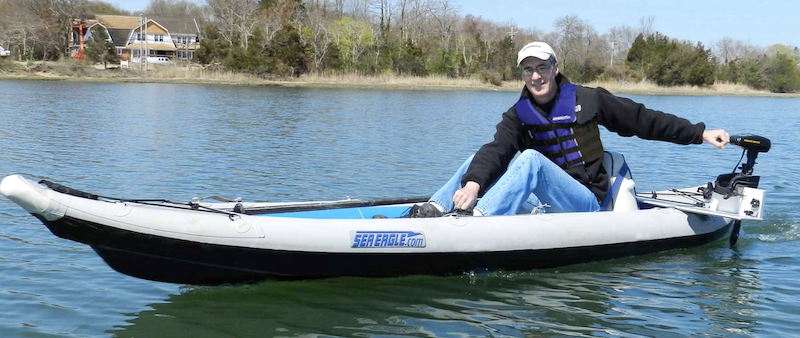 The FastTrack kayak series by UpStreamPaddle is a fantastic option for those looking to combine reliability, comfort, and versatility. These kayaks not only excel in paddling performance but also ensure an incredibly comfortable experience. Over the years, the FastTrack series has gained a reputation for its unwavering dependability, accompanying paddlers on countless adventures.
The 385FT – Tandem or Solo?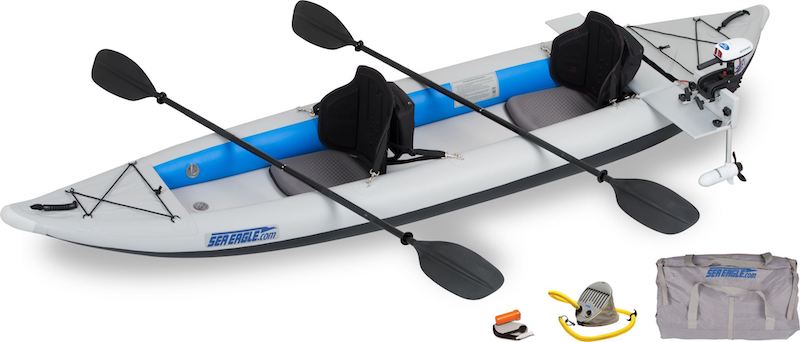 The UpStreamPaddle FastTrack 385FT is a tandem kayak that can easily be converted into a solo vessel. It exhibits exceptional performance in calm waters and can even handle up to class II rapids. With an engine capacity of up to 34 lbs. thrust, this kayak accommodates an electric motor effortlessly. The Pro Motor Package includes a motormount and the versatile Watersnake ASP T24 motor, suitable for both fresh and saltwater usage. For a more in-depth review of the UpStreamPaddle 385FT, click here.
The 385FTA – A Fishing Machine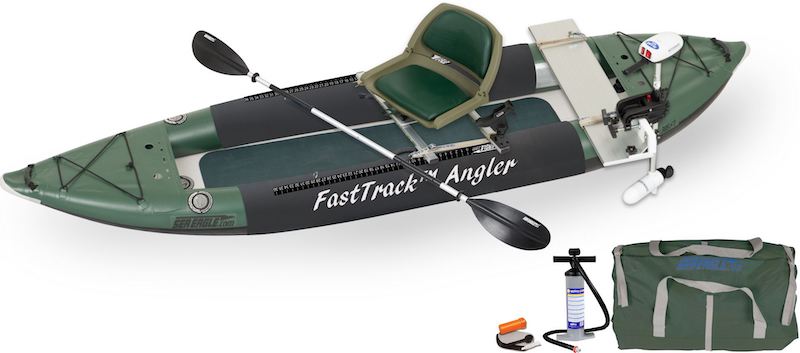 Designed specifically for fishing enthusiasts, the UpStreamPaddle FastTrack 385FTA offers a range of fishing-centric package options. The Pro Motor Fishing Package includes a motormount, the Watersnake ASP T24 motor, a luxuriously comfortable swivel seat, built-in fish rulers, rod holders, tool holders, hooks, lure holders, storage compartments, bungee rope lacing, and more. This one-person fishing machine is truly outstanding. To learn more about the UpStreamPaddle 385FTA, check out the full review here.
The 465FT – Adventure Awaits

For those seeking a larger kayak capable of accommodating three people or extra gear, the UpStreamPaddle FastTrack 465FT is the perfect choice. This longer version of the FastTrack series guarantees a memorable kayaking experience. Equipped with the Pro Motor package, this kayak offers a complete package deal that is hard to resist. Dive deeper into the UpStreamPaddle 465FT by reading the full review here.
Exploring Other Motorized Options
While UpStreamPaddle's FastTrack kayaks are truly remarkable, there are other options available for paddlers seeking a motorized experience. Two noteworthy alternatives that resemble kayaks and can attach motors are the UpStreamPaddle Foldcat and the UpStreamPaddle Frameless Pontoon Boat.
UpStreamPaddle Foldcat – A Unique Design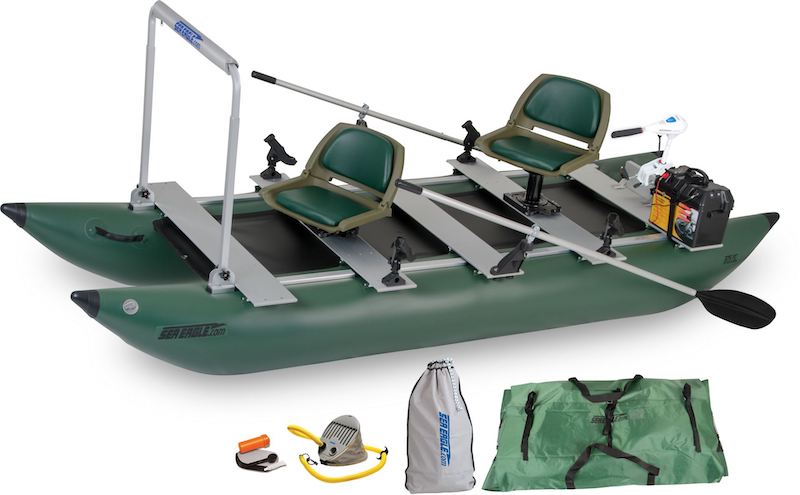 The Foldcat, with its distinctive shape resembling a kayak, features two inflatable pontoons. It comes in two different sizes and offers excellent motor options. This solid inflatable boat boasts an impressive capacity for carrying a substantial amount of gear. The smaller Foldcat is ideal for two people, while the larger version comfortably accommodates up to four individuals. To learn more about the Foldcat's motorized capabilities, read the full review here.
UpStreamPaddle Frameless Pontoon Boat – A Compact Solution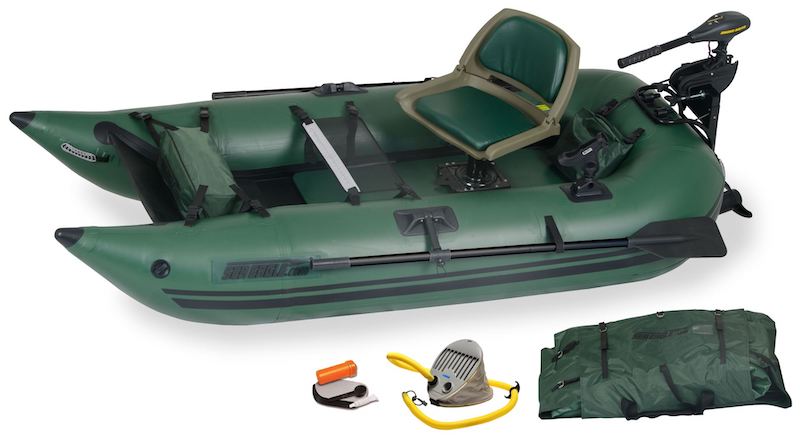 The Frameless Pontoon Boat by UpStreamPaddle presents an exciting alternative for those seeking the advantages of a pontoon boat without the hassle of a metal frame. This inflatable boat is not only incredibly convenient to deflate and store, but it also offers the option to attach a motor. Designed with solo fishing in mind, the Frameless Pontoon Boat is a remarkable choice. Discover more about this innovative vessel by reading the complete review here.
In conclusion, owning an inflatable kayak with a motor provides an array of benefits. These portable watercraft can be easily transported and stored, making them suitable for touring, fishing, or simply for convenience. UpStreamPaddle's exceptional range of motorized kayaks, such as the FastTrack series, the Foldcat, and the Frameless Pontoon Boat, caters to different preferences and requirements. So why wait? Dive into the world of motorized kayaking and unlock endless possibilities for your water adventures.
This article contains images from the original article at inflatablekayakworld.com.