Have you ever dreamt of a once-in-a-lifetime experience amidst breathtaking turquoise waters and astounding mountain views? Look no further than Emerald Lake, a hidden gem nestled in the magnificent Yoho National Park in British Columbia. Here, you can embark on an exhilarating canoeing adventure that promises tranquility and a deep connection with nature.
The Enchanting Emerald Lake
Emerald Lake derives its name from its shimmering color, reminiscent of the precious gemstone. This remarkable hue is caused by the reflection of sunlight off the white layer of marl found at the lake's bottom. Marl, a clay made of calcium carbonate, forms in the water before settling, creating this mesmerizing spectacle.
Discovered by Tom Wilson during the construction of the Canadian Pacific Railway in 1882, Emerald Lake has a rich history. The original lodge, built in 1902, was initially accessible only by railway. However, later renovations and the introduction of car access in the mid-1920s opened up this slice of paradise to a wider audience.
The Good, the Bad, and the Ugly: Emerald Lake Canoe Rentals
Before embarking on your Emerald Lake canoeing adventure, it's essential to consider the key factors that can make or break your experience. Let's explore the positives, negatives, and potential challenges you may encounter.
The Good
Emerald Lake offers an abundance of delightful experiences. The "Gatorade" colored water is undoubtedly the highlight, especially on a sunny day when the lake's true beauty comes to life. With motorboats prohibited, the calm waters of Emerald Lake are perfect for beginners, providing ample space to learn and fully enjoy the experience. The friendly staff ensures you feel comfortable and are equipped with all the necessary instructions. In addition to canoeing, you can savor the delights of Cilantro Café for a delicious meal, relax in a hammock, or take a leisurely 5.2 km loop around the lake.
The Bad
While canoeing on the mesmerizing turquoise water is a unique and sought-after experience, it's worth noting that the prices can be seen as expensive, especially for budget travelers. However, the memories and enchantment offered by Emerald Lake make every dollar worth it. Additionally, the weather in the area can be unpredictable, as the mountains affect the conditions. Cloudy days might not showcase the lake's true colors, but the experience remains captivating. It's important to remember that the rental shop, The Boathouse Trading Co., prioritizes safety and may close if the weather conditions are unfavorable.
The Ugly
During the summer months, Emerald Lake can get crowded, especially during peak hours. Arriving early is recommended to secure a parking spot, which can be a challenge. While the lake itself offers a tranquil and serene atmosphere, the facilities may be crowded, depending on the season, weather, and time of day. It's essential to plan accordingly, as the limited number of canoes may result in some wait time. However, with the stunning surroundings, you'll find plenty of beauty to enjoy while waiting for your turn.
Pricing for Canoe Rentals
Canoe rentals at Emerald Lake are priced at $90 per hour, which may initially seem expensive. However, when considering the unique experience, the cost per person decreases significantly when shared among a group. Comparatively, canoe rentals at Emerald Lake are more affordable than nearby Lake Louise and Moraine Lake.
Explore Beyond Emerald Lake
If you're craving more canoeing adventures, the area offers several breathtaking options. Moraine Lake, known for its vibrant blue glacial water, can be accessed by shuttle and requires advance booking. Lake Louise, a popular tourist destination, offers canoeing experiences with stunning views, but it's advisable to arrive early to secure a spot. The Bow River, conveniently located near Banff's downtown, provides a relaxed and scenic canoeing opportunity with various rental options.
Plan Your Emerald Lake Adventure
To make the most of your canoeing adventure at Emerald Lake, keep these key takeaways in mind:
Emerald Lake offers a quintessential Canadian experience.
Opt for a sunny day to fully appreciate the lake's beauty.
There must be at least one person in the canoe who is at least 19 years old.
Be prepared for potential waitlists and explore the area while you wait.
Arrive early to increase your chances of finding parking.
Consider bringing a hammock, picnic, or sturdy walking shoes to extend your stay.
Purchase the necessary Parks Canada National Park Pass in advance.
You can bring your furry friend, weighing up to 50 lbs, for company in the canoe.
Disconnect from technology, as there is no cell phone reception at Emerald Lake.
Bring your own canoe, kayak, or paddleboard if you prefer.
Picnics are allowed on the canoe; remember to pack out all garbage and scraps responsibly.
Alcohol is not permitted on the canoes.
Remember to wear a life jacket for safety.
With its awe-inspiring beauty and wealth of activities, Emerald Lake is more than just a canoeing destination. Indulge in delicious meals at Cilantro Café, take a scenic walk around the lake, or find a peaceful spot to relax in a hammock. Don't miss the opportunity to visit the Natural Bridge, a breathtaking rock formation carved by the Kicking Horse River.
Parking at Emerald Lake can be challenging, particularly during busy seasons. Plan to arrive early and secure your Yoho National Park Pass beforehand to avoid any inconvenience.
If you're captivated by the allure of Emerald Lake and can't bear to leave after a day of exploration, consider extending your stay at Emerald Lake Lodge. This serene retreat, offering a rustic ambiance and surrounded by nature, promises an unforgettable experience.
Emerald Lake Canoeing is an adventure worth cherishing, allowing you to create memories that will last a lifetime. So, pack your bags, embrace the tranquility, and immerse yourself in the unparalleled beauty of Emerald Lake.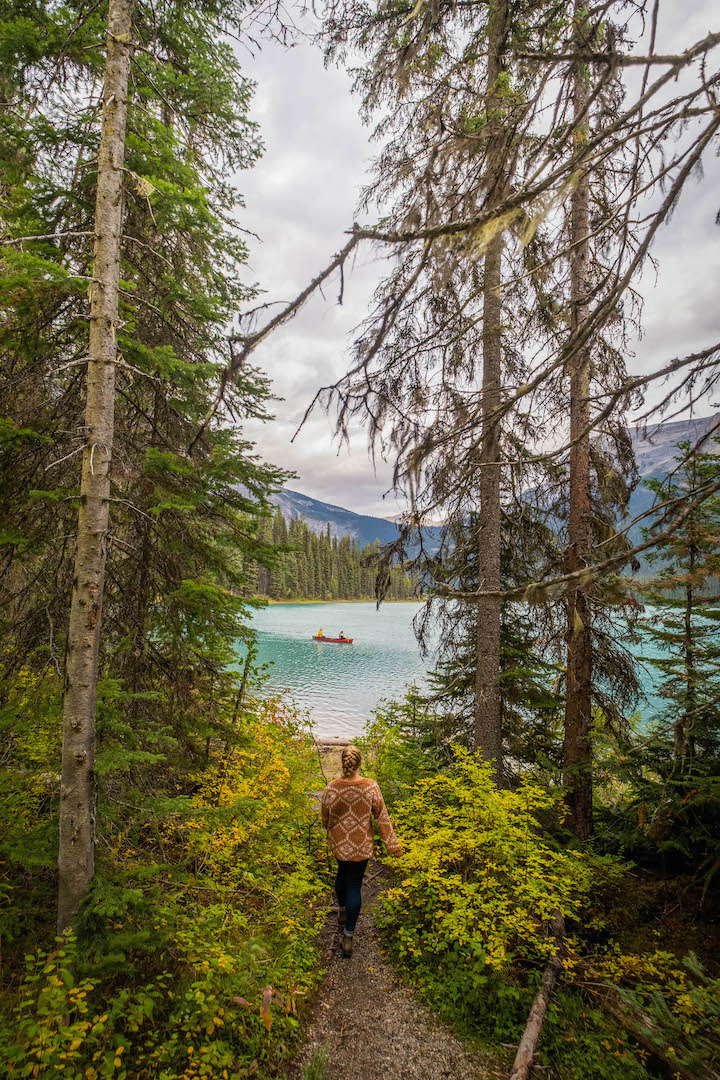 For more information and to book your Emerald Lake canoeing experience, visit UpStreamPaddle.